Upcoming Litters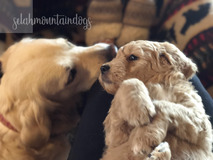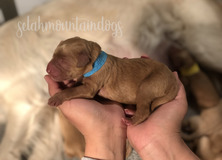 Early Summer 2019
Reservation List Full
The dam of this litter is our English Golden Retriever Rozzy. Rozzy is our absolute rockstar Mama! She is sweet and cuddly and LOVES her babies. The sire for this litter is Frazier and you can see his profile link below. We expect these puppies to be small standard sizing (45-60lbs) and are hoping for the creamy white, golden, apricot, dark apricot and red color puppies with white spots in this litter. Both the dam and sire have been fully tested as per the GANA blue ribbon level standards. Rozzy has not come into heat yet, but we expect this to happen January/February with puppies ready to go home in May.
To find out more information about Rozzy please click her profile below!!
Glamorous Goldens Roz (Rozzy)
---
Mid/Late Summer 2019
One Reservation Spot Available!
The dam of this litter is our English Golden Retriever Cammie and the sire is Bauer. We are expecting super mellow and beautiful puppies from this litter, just like their parents. The puppies are expected to be cream to red in coloring and small standard sizing. They will be F1 English Goldendoodles so their coats will be a beautifully soft, loose wavy texture at maturity. We expect some of these puppies to make wonderful therapy and service candidates.
Placer Golden Cameron (Cammie)
Red Rock's Bauer (On Loan) (Bauer)
---
Fall 2019
Three Reservation Spots Available!
This is a repeat breeding. We were extremely happy with our 2018 winter Zivah and Bauer litter. All 10 of the puppies had excellent temperaments and passed as therapy candidates. We are expecting the same for this litter as well. These pups will be small standard F1 English Goldendoodles. If you are interested in this litter, get in contact ASAP as the list is filling up quickly!
Selah Mountain's Radiant Light (Zivah)
Red Rock's Bauer (On Loan) (Bauer)
---
Selah Mountain cannot guarantee adult dogs coat color or non-shedding coats. We are willing to suggest the pick for your desired coat and color, but will not make any promises. Coat color and texture usually changes with age, please keep this in mind.