Breeders of superior English "Teddy Bear" Goldendoodles, American Goldendoodle and English Golden Retriever Puppies in Pagosa Springs, Colorado
About Us and Our Dogs
All of the Selah Mountain dogs and puppies are raised in our home. Our Goldendoodle puppies have the privilege of growing up around playful children, our other pets and neighbor's livestock in our Colorado mountain home. We believe these experiences make them well prepared for the new and exciting adventures ahead with their forever families. Our puppy curriculum and purpose in breeding is to create sound and mellow tempered dogs. Temperament and health are the most important focuses within our breeding program. We believe that being faithful and honest with how we breed our dogs will, in turn, produce quality, healthy puppies, and happy pet owners. Our hope is to be the type of breeder that we ourselves would want to buy a puppy from.
Learn about Selah Mountain's Health Guarantee
We offer a health guarantee to help give peace of mind to all of our new puppy owners. At Selah Mountain Dogs we strive to only breed the healthiest dogs, and in turn, have the confidence to offer an extensive health guarantee. Our puppy parents have all been tested and cleared for genetic diseases before entering our breeding program. We follow the strict health testing requirements of the GANA at the blue ribbon level, which has the most extensive health testing requirements. In other words, we do everything possible to provide you with a happy and healthy puppy.
What's Happening at Selah Mountain
We have 3 planned litters for summer 2020! The F1 English Goldendoodle and medium multigeneration litters. We have spaces available on all 3 litter lists! Please visit our upcoming litter page or contact for more info!
Apply now to reserve a spot on any upcoming litters.
Our hope is to be the type of breeder that we ourselves would want to buy a puppy from.
We are proud accredited breeders of the Goldendoodle Association of North America.
The Goldendoodle Association of North America (GANA) is the first and only breed club established for the Goldendoodle. The GANA's primary objective is to promote and guide the development of the Goldendoodle to achieve breed standards while maintaining optimum health. A Code of Ethics and Accredited Breeder Rules and Requirements have been created to assure that the common goal of the betterment of the breed is followed by all breed members.
To find out more about the GANA click the link below.
We are excited to have been awarded 'good dogs' "Excellent" recognition badge for health testing practices!
The "Excellent" badge distinguishes those breeders who demonstrate an exceptionally high commitment to prioritizing the health of their dogs by performing the highest level of health testing on their breeding dogs as outlined in our Goldendoodle health testing guidelines.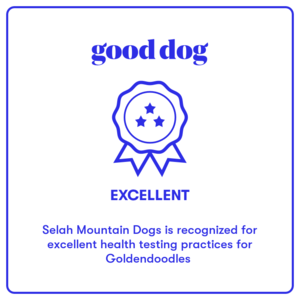 We are excited to have found an increadibly healthy dog food product called 'pawTree' & are fortunate to be able to partner with them.
With pawTree, you can feel confident that the quality and care put into the development of every product means every bag is packed with the wholesome goodness your pets need to live healthy, vibrant lives.
To find out more about pawTree click the link below.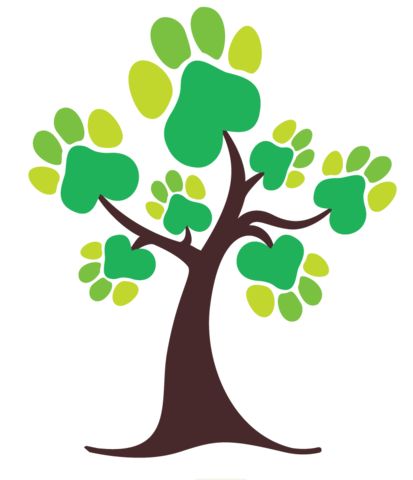 I lift up my eyes to the mountains—where does my help come from? My help comes from the Lord, the Maker of heaven and earth. Psalm 121:1-2