Bernedoodles are a purpose bred combination of the Bernese Mountain Dog and Poodle. This breed is best known for it's mellow and easy-going temperament. As with our Goldendoodles, we are also raising these beautiful Bernedoodles under our mission to produce sound service, therapy and companion home dogs.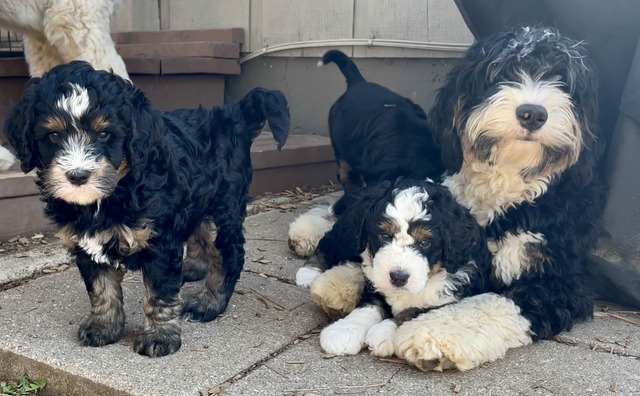 We specialize not only in temperament but health and can guarantee the health of our puppies since our parent dogs are completely health tested. Our puppies are raised in-home around children and are taken through extensive socialization and training protocols. Our goal is to raise confident and adaptable puppies. We are proud to say that several of our Bernedoodle offspring have gone on to become certified service and therpay dogs!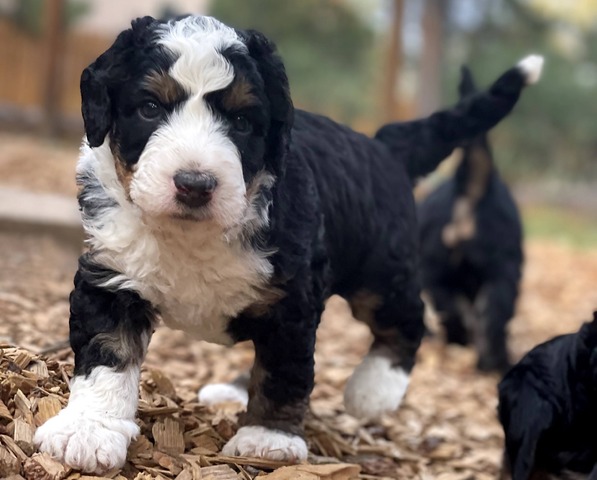 Bernedoodles come in all colors but the most recognized color is the traditional tri coloring, which is the same at the Bernese Mountain Dog. They range in sizes from mini 25-35lbs, medium (35-50lbs) and standard (50+lbs).
Upcoming Bern
edoodle Litter
Medium Multigen Bernedoodles:
Kylie and Liam will be having multigeneration Bernedoodles early 2023.
Kylie is an F1 TRI Bernedoodle with a wavy coat. Liam is a multigen TRI Bernedoodle with a loose wavy, low shedding/allergy friendly coat. The puppies will all be wavy, low shedding TRI colored coats. Liam and Kylie are both extremely mellow, people friendly, happy-go-lucky Bernedoodles. There have been several service and therapy dog placements from Liam's line. The parents of this litter are fully heath tested -Hips, Elbows, Cardiac, Patella (minis) and DNA. This will be Kylies first litter but Liam has sired several really amazing, mellow puppies in his previous litters.
WE HAVE 5 OPENINGS ON THIS LITTER RESERVATION LIST
Kylie
Liam
Previous Liam Puppies Picture Below
For information on our upcoming Bernedoodle litter, please email us!
Selah Mountain cannot guarantee adult dogs coat color or non-shedding coats. We are willing to suggest the pick for your desired coat and color, but will not make any promises. Coat color and texture usually changes with age, please keep this in mind.